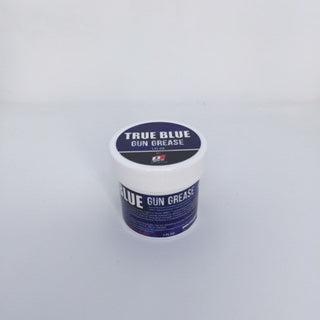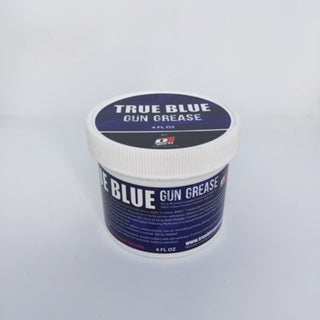 True Blue
TRUE BLUE Gun Grease
TRUE BLUE Gun Grease is the shit for any firearms tolerances, tight or loose. MRCC ™ and Polymerization provides smooth high-performing action, stays viscous, will never degrade to a sticky gooey substance caused by heat and age. Retains a film to maintain hydrodynamics (keeps mechanisms from touching) even high pressure areas.
Has high corrosion protection for short or long term storage. Works as an anti-seize.
Contains no PTFE/Teflon/Ceramic/Lithium.  We are much better than that with compounds used in the aerospace industry. Performs in a broad temperature range from high heat to cold.  Pour Point is -30F / -34C degrees. We love the heat!
Available sizes: 1oz and 4oz tubs.
NOTE: With all greases, some oil bleed is normal. Stir as needed.
Other applications: Reloading presses, fishing reels & where a lite weight grease is needed.
Highlights
Uses Aerospace technology and compounds. Extremely low co-efficient of friction. Slick. Slippery. Smooth.
10 times slipperier then Teflon (PTFE) which is old school technology.
Ceramic infused lubricants? Please! We don't do gimmicks. No BS.
Out performs lithium greases which can effect seals.
High sheer strength to prevent galling in guns and chokes.

 

Great for threads.
Prevents stuck choke tubes caused by corrosion, stress of steel shot loads, high temperatures and pressure from repeated skeet and trap shooting
Performs in high pressure areas such as bolt lugs.
Stays in place to maintain very high film strength to keeps mechanisms from touching.
Excellent for muzzle loader breech plugs to prevent seizing
High corrosion protection to all metal surfaces for short or long term storage.
Performs in temperature range from high heat to extreme cold.
Pour Point

 

is -30ºF / -34ºC degrees.
Does not degrade to a sticky gooey substance.
Water Proof. Protects against sea water exposure direct or atmosphere.